New Projects on the Horizon, Anterior and Posterior
Published Monday, November 07, 2011
I haven't written a personal-ish post in a while, and I've had more and more glimmers of inspiration lately (offset by deeper dives into senility), so I thought I might blog about some recent and upcoming projects.
Retro-Love Extends to Automobiles, Too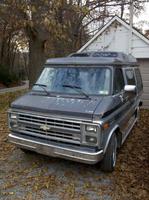 First, I have been spending a lot of time reviving the '89 Chevy conversion van that belonged to my previous band (Idiosympathy) and has found her way back into my driveway. She's got a rather convoluted history... we got her in May of 2005, give or take a year, and she served us well for a couple of years until her transmission went out. That was about the time I moved to Harmony, PA, and when I moved back to Grove City two years later, I decided to have the transmission fixed. Keep in mind she had sat in a field for those two years, so after the transmission was fixed she still needed quite a lot of work (brakes, body work, other misc. things that fail over time). So it sat for another year in my parents' driveway, as I didn't really have the means to do the other repairs. It was at that time I decided to sell it to my brother-in-law, since he and my sister have a large family and needed a big vehicle more than I did. Then it sat for another two years, because he didn't have the time to work on it (did I mention he has a large family?). Finally after all that time sitting, over this past summer I decided I would buy it back from him... and he was kind enough to just give it back to me! The best part: After replacing an obviously bad battery, an oil change, and a can of sea foam, she still fires right up like the day she rolled off the lot-- even with 5-year-old gas in the tank! The 350 is (or was) definitely an engine Chevy knows how to make right. I plan on giving her a tune-up too, of course. After a bit more work (the most daunting being the body work), she'll be fully ready to serve as Yellow Lady Slipper's super-sweet retro ride.
Some Website Work
Been spending a little time helping out some friends from high school with the revamp of their PC Gaming web site, KBMOD.com. I've mostly done invisible stuff (server maintenance and bug fixing) but I also made a theme for the forums to match the the blog. I'd never done anything quite on that scale before, it's been a big challenge but a lot of fun. Check out the site, they've really got a solid following... pulling in a steady 100,000 hits a month now!
I'm also in the midst of redesigning my girlfriend's handmade jewelry website, RagtraderVintage.com. I designed the current site, but we quickly ran into various usability issues with the store engine running it (Zencart), though it's at least stable which of course is the most important part. Currently I'm playing with Magento and Wordpress; the latter would be ideal since I've got a decent amount of experience with it.
New Recording Studio Plans
In previous posts, I detailed a little bit of the work that was going into building a studio in the basement. Unfortunately, after all of that work, the massive Spring Melt revealed flaws in the foundation and gutters that allowed just enough water into the basement to prevent us from being able to move forward, for fear of having to undo work in the future (mainly putting down a nice floor and/or carpet). So the studio has been on hold for almost a year, coinciding pretty well with my decreasing sanity. :)
So recently it dawned on me, I need a studio more than I need a comfy living room or a nice dining room. So I decided that I'll shuffle things around a bit and move the living room into what is currently a spare bedroom (converting it into a den), moving extraneous dining room stuff into other areas of the house, and making about a 480 sq.ft. studio on the first floor. Right when you walk in the front door. Fortunately, I also need a studio more than I need people to think I'm normal. :) So work will begin on that project in the near future, and if I think of it I'll try to update the blog.
Commercial Recording Services Again?
I hate how often I've flip-flopped on this subject. I really enjoy music production, and I now realize I need more of it. But at the same time I'm not convinced there's much of a market for the kind of production I do (out of necessity because I don't actually know what I'm doing), emphasizing the basics -- simple analog workflow and mic technique -- rather than "in-the-box" perfection. Most bands out there, understandably, want a well-polished product rather than an honest snapshot of who they are. But maybe, just maybe, if I belabor the point enough, I'll be able to find the bands who like that kind of approach, and who say "We can fix it" rather than "can you fix it?". And maybe if I make a few compromises on my end (e.g., spending money on a little bit of shudder proprietary software and modern fx gear, being ok with some in-the-box edits), I'll be able to appeal to the perfectionists out there too. So I won't count this as any sort of official decision, but it's just a growing thought in my mind. Maybe I'll end up dropping the whole thing the first time someone asks "how much do you charge?". Or maybe I'll operate entirely funded by paypal donations and kickstarter campaigns, so that I can avoid the subject altogether.
Well that's all I can think of for now.
Modified Wednesday, March 24, 2021