Truck gets Rig'd
Published Monday, September 05, 2022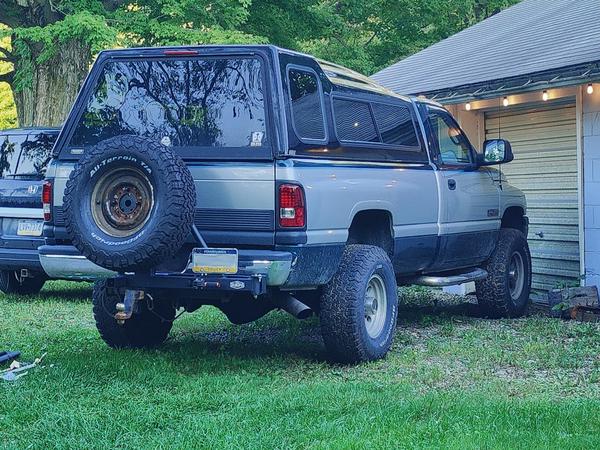 Something that's been on my to-do list for a long time: Adding a swing-away spare tire carrier to the Dodge. A few months ago, thanks to the excellent offroading content creator Brad a.k.a. Trail Recon, I learned about the Rig'd Ultraswing, which uses your existing hitch receiver to add a very sturdy carrier for a full sized spare.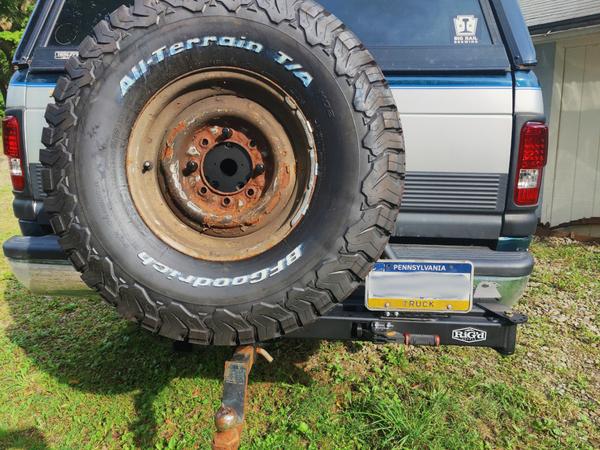 My initial impressions: The build quality is excellent, and I really appreciate that there was very little assembly involved (after having done a couple bumper replacement/upgrade projects on various Jeeps). I had it all mounted up within about an hour, and the most time consuming part was determining exactly where (i.e. how high) I wanted the spare to sit. The part that goes into your hitch receiver uses a clever wedge system that tightens down and keeps the whole apparatus exremely secure and rattle-free.
The big downside I can see is that the rear bumper is no longer the main absorber of a rear-end impact -- I've already lost one bumper to this thanks to poorly maintained winter roads, and I'll be spending a lot more money than just replacing a bumper if it happens again. My only other real complaint is the cost... while I do think it's worth it, especially since it's manufactured in the US, it was a bit of a bitter pill to swallow. But, having full use of my truck bed will definitely make my life easier. Plus, I can hold onto it and re-use it if I end up getting a different full-size truck in the future (though the chances of that are small). So, I justified it by thinking of it as a longer term investment.